Save the date ! Annual meeting 2019 at the Hoyas garage
News of the 8 March 2019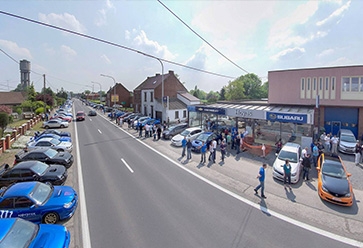 As every year, Dany Hoyas welcomes once again his SUBARU rasso annual, which will take place on Saturday, April 27 from 14 hours!
As every year, the menu of this day: surprises, novelties, but also conviviality and sharing our passion for the brand to 6 stars.
As every year, more than a hundred participants are expected, all Subaru enthusiasts from Belgium, the four corners of France and elsewhere.
The rasso is obviously open to ALL Subaru, but also to enthusiasts: all models, all engines are welcome. Come join us and make this a day a great memory.
As the year before, a Facebook space will be specially created for the event: it will be possible to create meeting points according to the regions, give yourself a checkpoint at the Belgian border, leave in "big convoy" then to Ghlin ... and incidentally allow Dany to evaluate the number of participants.

useful information
Date: Saturday, April 27 from 14 hours.
WARNING, be understanding and do not come before because the garage is open on Saturday morning
Address (for those who do not know it yet): Rue de Baudour 34 - 7011 Ghlin (Mons), Belgium.
WARNING: do not park your cars in front of the entrances / exits of the neighbors' garages
Telephone: +32 65 / 31.28.40