Subaru present at the Brussels Motor Show 2020
News of the 8 January 2020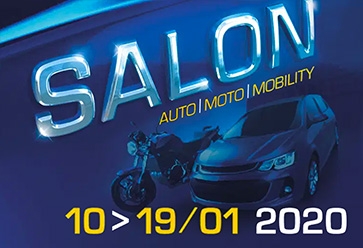 The 98th edition of the major meeting place for cars and two-wheelers in Belgium is once again being held on the art-deco site of the Palais du Heysel.
If Paris, Geneva or Frankfurt are better known to the general international public, the Brussels Motor Show, which takes place from 10 to 19 January 2020, is one of the major events of the European automotive industry. More than 500,000 visitors are expected on 98,000 m2 and, with at least 15 world premieres, 10 European premieres and 107 Belgian premieres, this edition of the Brussels Motor Show promises to be a record edition in terms of exclusivity.
The main attraction on the Subaru stand (Hall 4, Stand 5) will undoubtedly be the new hybrid models, the Subaru XV e-BOXER as well as the Subaru Forester e-BOXER hybrid, which obtained the maximum 5-star rating in Euro NCAP tests, with the highest score in its category for child safety.
In addition to these new models and the new passive and active safety systems (Driver Facial Recognition System DMS, Automatic Emergency Reverse Braking System RAB and Rear Seat Occupancy Recall System RSR), the star-studded brand will present at Hall 4 of the Brussels Motor Show the other models in the range, such as the Outback, Levorg, Impreza and Subaru BRZ.
During the entire show period, come and meet us and discover our exceptional special show conditions! Our showroom is open non-stop until January 25th included (Open on Sundays and Mondays 12-13 and 19-20 January from 10am to 5pm).